Fashion
What exactly is Boho Culture?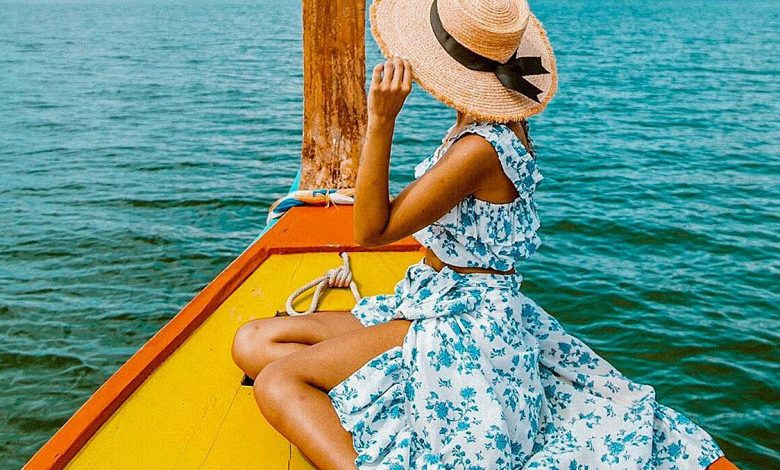 So, Bohemian, or simply called boho. Boho dress's look owes much to the pre-Raphaelite women in the 19th century and the hippies and free spirits of the 1960s and 70s. Bohemian culture is a different kind of culture that predates the hippy movement. The hippies were a new cultural movement that emerged afterward. Boho is about making fun of yourself. These styles are known for their long, flowing skirt, jumpsuits and dresses, peasant tops, ruffled skirts, and ethnic elements such as tunics or wooden jewelry, embroidery with beading, fringed bags, and flat, jeweled, or adorned shoes. The outfits were vibrant. Layering is the key to this look.
The term "boho," or "boho chic," was not widely used until the 2000s. The abbreviation "boho," which stands for "bohemian," has been well-known for an extended period.
According to the Online Etymology Dictionary, the Roma gypsies from France were mistakenly identified as being from Bohemia. Therefore, the term "Bohemian" was initially attributed to them. However, as time passed, artists who were financially insecure began to use the word. They adopted a lifestyle similar to the one of the historically oppressed Roma.
The bohemian subculture is defined by a person who identifies with it from the middle to the end of the 19th century. This includes their involvement in art (often painting, writing, or journalism), defiance of social norms, and financial hardships. Bohemian living often had a nomadic lifestyle (sometimes driven by economic necessity) and radical political views. Puccini's opera La Boheme featured the unlucky protagonists, the Bohemians from the Latin Quarter in Paris. It eventually made its way to all major European cities and the United States. There it was occasionally used in subcultures.
Bohemian fashion is a subset that includes hippie fashion. It emphasizes individuality and free-spiritedness and the use of unusual, often extravagant accessories.
Bohemian style is not just a fashion trend; it is a culture with its own ideas and a long history. Bohemian style was initially associated with the counterculture in the 1960s and 1970s. However, it has now become mainstream. Contrary to popular belief, the roots of boho fashion are in the nineteenth-century counterculture. Boho fashion is a cultural phenomenon because of the wide variety of accessories and clothing available. Boho's laid-back, carefree vibe is evident in the emphasis on loose-fitting clothes, casual accessories, and an artistic, creative mix of elements.
Bohemian clothing, and the associated lifestyle ideology, indicate a rejection and acceptance of traditional norms in clothes and behavior. It also shows a preference to be more free-spirited, individualistic, and open to social change.
The lack of norms best represents bohemian aesthetics. This is the antithesis of neatness and precision. It is essential to seem unconcerned and casual, as if you just threw on the pieces, in keeping with your laid-back, natural disposition. Boho-chic accessories include embroidery, bulky sweaters, and scarves.
It is fascinating to read the story of the first Bohemians. France's revolution saw the rise of the bohemians. They were called "gypsy" and "Roma." People fleeing mainly were from central Europe's Czech Republic. Modern-day gypsy identifies as punk, rock, or other out-of-this-world and dresses up in high-fashion, edgy pieces while wearing looser, casual clothes.
Bohemians love to live in places that allow them to express their opinions and make money. Their bohemian lifestyle is because they are poor and don't have any hope of getting ahead. They settle in low-income areas where they can express themselves freely.
Bohemians are well-known for their unconventional ways of living. Their creativity and originality are the reasons.
Bohemians are known for being unpredictable and carefree. They don't follow the same routine twice. They don't have a set schedule or guiding principles for their lives. However, They are explorers and vagrants who live in nomadic conditions. They are gifted at painting and have an imaginative spirit.
Bohemians spread peace and love. They despise those with a "war mindset" and look down upon anyone with one. They are influential to many philosophers, musicians, and artists.
Because money is tight, they prefer vintage or secondhand outfits in bright colors that make them stand out. Bohemian dresses are bold and bright. Accessorizing with large bangles and necklaces is a favorite pastime for bohemians.
They eat a vegan diet to help them manage their weight. Most bohemians ate a vegan diet because they felt it was more beneficial and had more energy.
Boho culture is strong in its philosophical, spiritual, and mythological undercurrents. "Jumping into life in full color" is the movement's motto. It hopes this will leave a lasting impression on the world and provide financial security for the family.
The roots of today's "Boho chic" aesthetic are in the counterculture movement from the 1960s. They have acquired many fashionable accessories over the past two centuries. However, They don't like the idea of wearing anything too restrictive. They prefer to wear loose, draping outfits. Bohemian fashion often features long, dangling necklaces made from beads.
Both men and women can wear "Bohemian Fashion" as they share the same influences. However, they share many of the same influences and styles as women's clothing but are less apparent. You might see them wearing baggy pants, ripped jeans, a jumper, a T-shirt or vest, a scarf, and a vest. Layers, caps, and jewelry like bracelets and rings can make your outfit more polished.
Originally known as "bohemian-chic," the term "boho" was a combination of "bohemian-chic" and "boho style." Its name, BoHo, refers to its nomadic, free-spirited aesthetic.
Boho chic also includes clothing for children and styles for adults and men. 
Boho style can be found all over the world. Anita Dongre's Global Desi label is India's most famous for its vibrant, bohemian-inspired designs and floor-length shapes. Several Bollywood actors, such as Kangna Ranaut, and Kareena Khan Khan, have popularized the bohemian style.
It isn't easy to keep track of all the people who have adopted the boho aesthetic over the past 200 years. Janis Joplin, Steven Tyler, Johnny Depp, Kate Moss, Mischa Barton, Hailey Baldwin, Vanessa Hudgens, Blake Lively, Kate Middleton, Kate Olsen, Sienna Miller, Dylan Thomas, etc. All of them wore bohemian clothes at one point or another. Dylan Thomas wore woolen sweaters with roll necks to maintain a casual vibe.
BoHo Style: What to Wear?
 T-shirts, tunics, and prairie blouses are all popular choices. Dresses are more open and airier. You will find a variety of bottoms: long skirts, shorts, denim shorts, and harem pants. You won't find many bright, neon colors here.
Patterns and designs are pervasive, as well as earthy tones, pastels, and muted colors. There are many decorations available, including embroidery, patchwork, braids, pom poms, and appliques. Many of these have a cultural or ethnic theme. These details are standard on BoHo-style footwear and accessories.
To complete a boho-style outfit, you can choose from brown boots, wooden clogs, or embellished sandals. BoHo fashion is all about freedom of expression. You will often see large accessories such as chunky necklaces, hefty bracelets, and spacious totes.
Bohemian accessories, also known as "BoHo," are often unique and statement pieces. BoHo style is best suited for classes that are more natural in hair and makeup. This is all about freedom. Don't be afraid of trying new techniques and making them your own.
BoHo style is now available to everyone. You don't have to dress up or down.  BoHo clothing allows you to express yourself and is as individual as the wearer.
Romantics and French Bohemians
 The fashions of the two groups featured more loose-flowing clothes, textiles with a medieval or eastern aesthetic, bright colors, and gypsy-inspired hairstyles. 
The Boho Aesthetic Movement
Over time, the fashions of Bohemians have changed drastically. The Bohemians' initial response to dire circumstances (poor clothing due to financial constraints) has turned into an ideological position against consumerism. They advocate shared living spaces, conventional social norms, and essential cleanliness. The Bohemians joined Aesthetic Movement to protest restrictive clothing like corsets and crinolines. The Aesthetic Movement adherents adopted a new way to live and a unique fashion sense. They emphasized baggy silhouettes and hand embroidery, as well as medieval-inspired patterns. Henri Murger, Giacomo Puccini, and other composers began to address the new counterculture in their writings. They even named their masterpieces after Bohemians.
Bohemian Icons Of The Early 20th Century
Designers put a modern spin on boho styles at the beginning of the 20th century. Paul Poiret, a designer who incorporated motifs from Russian and Middle Eastern cultures into his collections, was one of these. William Morris, a textile designer, also created a variety of patterns that were both intricate and decorative. These included paisley, swirls, and luxuriant floral prints.
The Hippie Era
The Bohemian Movement was a new term that changed the direction of fashion forever in the 1960s. Ethnic clothing, including embroideries, mixed patterns, volume, fringe, and flared silhouettes, gained new popularity during the peak of the Hippie Movement's rejectionist approach to living. Their clothing contrasted with the preceding decade's sophisticated, sleek styles.
So, When building your bohemian wardrobe, a capsule wardrobe with the essential bohemian pieces you need is a great place to start. You don't need more than 20 primaries, interchangeable pieces. Bohemian fashion is very versatile. 
Modern BoHo fashion draws inspiration from the past's creative spirit and free spirits. 
So, Many distinctive features and components distinguish boHo fashion.  BoHo style has evolved and changed over time, like all fashion. This has led to many distinct subgenres.
Photos and clothing that resemble the BoHo chic look are what people find when they search online for "BoHo clothes" and "BoHo fashion."
Bohemian fashion is back in style, not only on runways in Paris and New York.  Today, the Bohemian aesthetic is more mainstream than a subculture.